Aarthi & Pratish
April 9, 2021
• 0 Comment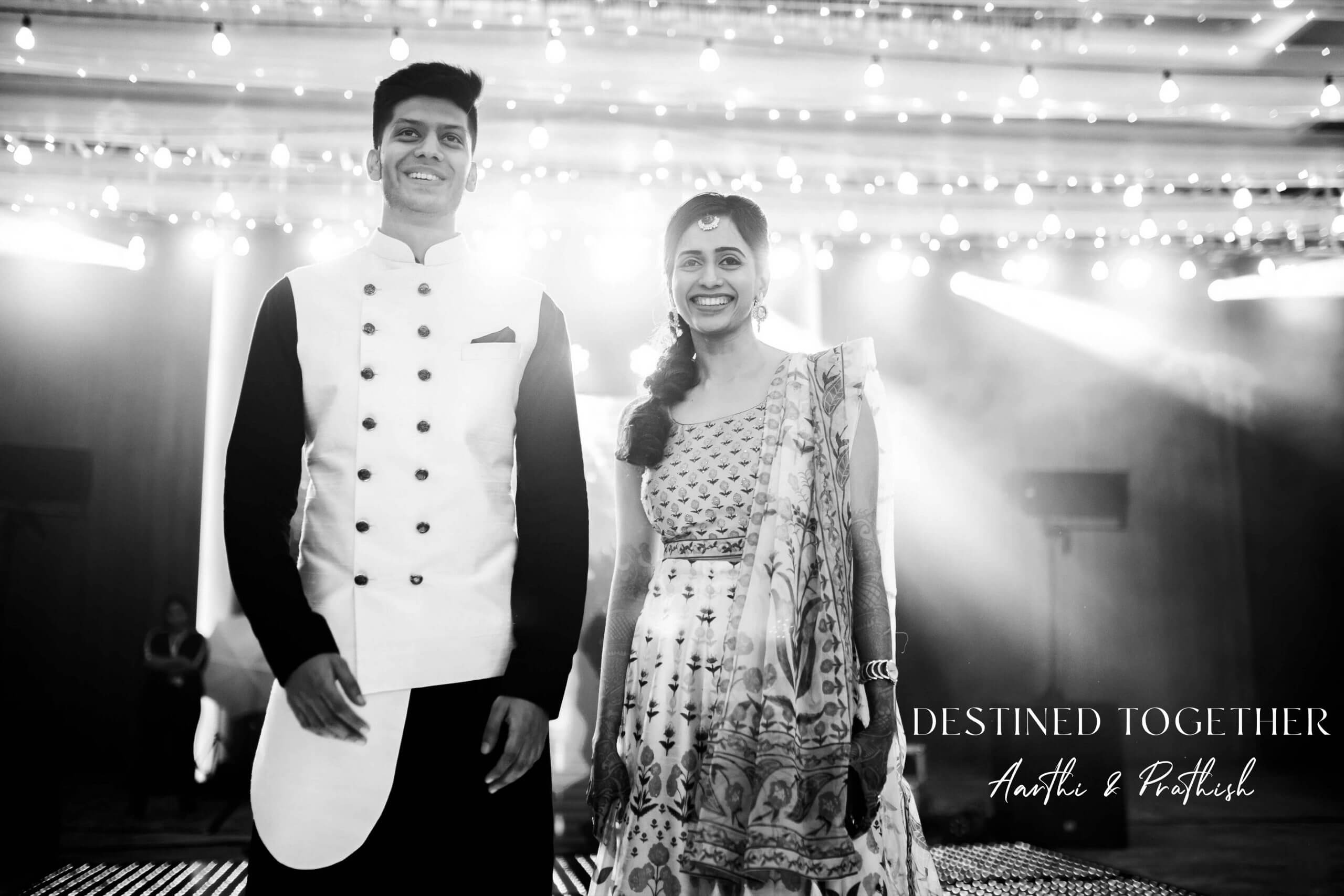 Dance with Me
Aarthi & Pratish
They say marriages are made in heaven. From what we know to be true, they are made between two people who look into each other's eyes and simply know that they are meant to be together. This unique feeling is not exclusive to love marriages. A silent understanding between two souls who have only recently connected is all it takes. That one moment polishes the silent dream they both share for a better future.
In the case of Aarthi and Prathish, we see one such exquisite dream blooming into a display of subtle magnificence. You will spot it in the way the light twinkles in Aarthi's eye when she is near her darling, and in the proud manner with which Prathish carries himself in Aarthi's presence. As Telugu weddings go, the stunning photoshoot involving this couple took us on a journey of gilded glory and expressive desire.
Families overflowed with joy watching the couple dance with their eyes and sing with their souls. There was such candour and truth to the way Aarthi leaned coyly to one side when she posed, and the way Prathish smiled heartily as he basked in the beauty of his bride. We captured tradition and shadow-play in good measure during our photo-spree for this album.
At the mighty Sheraton ECR, we were faced with an enormous responsivity: how to ideally shoot our couple in a sea of such overwhelming perfection. We're happy to say we rose to the challenge. The power of promises never ceases to surprise. Matrimonial traditions have been around for centuries, but the way each couple performs the final promise of eternal bonding proves that Love is real, that it is not an illusion. A genuine promise wrapped in the garb of tradition makes love real.
Some memories last forever, others only so long as we continue to give them meaning. In halls filled with floral splendour, we captured family members whose hearts were filled with hope and happiness for the couple. Aarthi and Prathish indeed found their destiny in one another.
Here's wishing you two a memorable future. May your love ever-bloom, may your family always see the light in both your eyes, the same light that we saw when we were given the privilege of photographing you on that blessed day.
At their classy reception, a confluence of emotions suffused the evening. In addition to giving Roving Lens a chance to capture some of the most candid shots of the month, we also got to see how so many people came together at The Radisson (Salem) with one hope in their hearts, namely the happiness of the couple.
Flora made a statement that evening. Anthuriums and Monstra Leaves complemented Aarthi and Prathish's unique bond, one that is multi-layered and full of meaning. During the reception, we caught glimpses of perfection in the form of fashion and style accessories. In the groom's watch (a chic Rado), shoes, and suit we found a distinct source of power, strength, and calm. In the bride's jewellery and dress, we found threads of divinity and originality.
Prathish's smile became a symbol of inspiration. He lit up the room with poise and poses, but the winning element was his unrestrained smile at all those who gathered to celebrate his marriage to Aarthi. The bride, in her own way, earned the love of everyone that evening. From a resplendent dress to unbridled charm, there was no stopping Aarthi when it came to proving she could stay calm in a sea of pressure.
It is a known fact that two people marry for more than just love. Life has obstacles in store, and a bonded couple can weather them with heightened grace and strength. In Aarthi and Prathish's case, we saw just how ideal they are for each other. Complementing one another in ways we cannot truly explain, the couple did indeed look ready to take on the future.
The eyes are the windows to the soul. As such, we saw glints of hidden potential in Prathish's eyes each time he was seen standing with family or sitting with his beloved bride. Aarthi exuded a special warmth and elegance, one that lingered in our memories long after the event was done.
We send our heartfelt wishes to Aarthi and Prathish. We bless them with hope for the future, and strength for when the going gets tough. We wish upon them the ability to see the same beautiful spark in each other's eyes that we saw on their 'Big Day'.