Harshita & Prashanth
April 10, 2021
• 0 Comment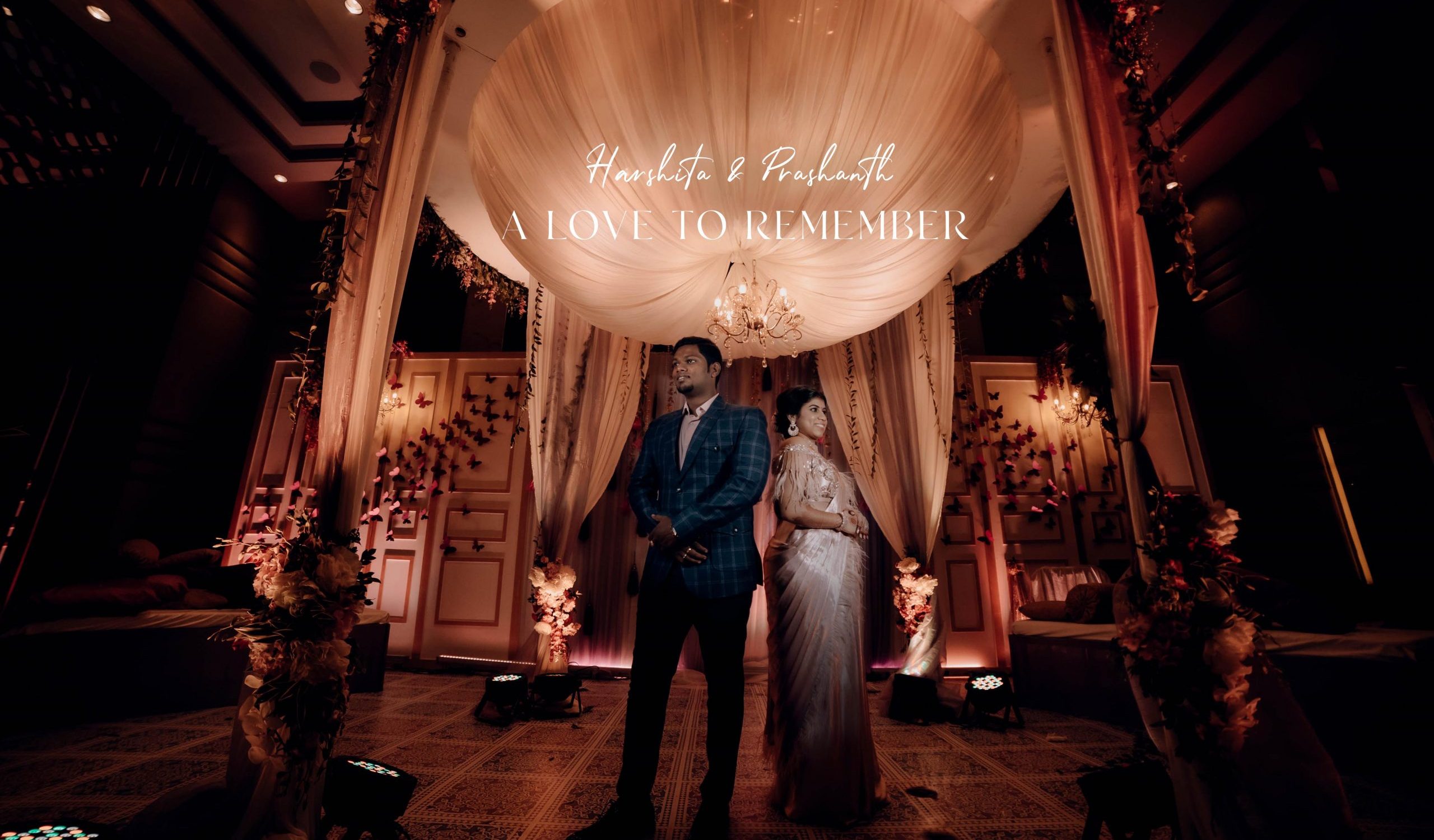 A Love to Remember
Harshita & Prashanth
Few weddings are capable of creating a rich atmosphere of excellence and nuanced beauty. Harshita and Prashanth's 'Tamil Pillai' wedding bestowed one such oh-so-rare sensory treat upon us. Their inter-caste love marriage gave off all the right signals, especially a sense of great joy to come. At The Westin (Chennai), we found the perfect combination of florals, modernity, tradition, and style. 'Tinsel Diaries' designed a bold fusion look for the stage décor. 'Abisha' went all out to create a contemporary yet quirky French lavender themed mandap, replete with chandeliers, butterflies, gota patti/resham tassels, tree blossoms, a vintage table, and more.
Dressed in a 'Jacquard' Kanchipuram silk saree, Harshita looked like she had stepped out of an Indian fantasy tale. In addition to the traditional kemp jewellery she wore, her blouse demands special mention here. It was made after the 'Aari' fashion with two parrots facing each other. Her bangles were custom-made by 'Nanda's Bangles' (Hyderabad).
Complementing the bride's saree was Prashanth's hand-block gold foil print ethnic silk shirt, woven in the same dual-shade coral-neon orange as the bride's outfit. Together, the couple exuded an aura of blessed perfection. One look was all it took for us to see that they were made for each other.
Let's talk Traditions, because this wedding had quite a few amazing ones in it. This is for all those out there who are wondering what's going on in some of these photos. One of the shots has an umbrella being held for the groom's entry as well as the 'Paatham Pooja' – this is the 'Kaasi Yatra'. The coconut-on-tray exchange is called the 'Kanika Dhaanam'. You will also find the beautiful 'Ammi mithichu arunthathi paakrathu-metti on toe'. And finally, the 'Nalangu Kalayanam' that involved a silver pot. Each of these traditions holds immense sacred value.
We come now to the reception, where the first sight we beheld was that of the bride. Harshita made her entry in a contemporary pre-draped designer satin saree, with feather embellishments. In addition to looking gorgeous, the dress contrasted what she wore earlier for the wedding. Special mention to the off-shoulder 'Kadithana' work on the blouse, which added a further layer of beauty to the bride. Prashanth, in his blue checked suit, added to the poetry of the evening. He was the dependable rock to his bride's soaring spirit.
Standing in its own light was the vanilla flavoured cake, which happened to be a surprise given by Prashanth's friends. We bet it tasted divine! From the invitations, return gifts, and décor, everything was designed to suit the overall theme of the evening. The attention to detail was second to none. It was a day filled with splendour, grace, elegance, and charm.
Harshita and Prashanth's wedding highlighted the significance of family and friends, and the eternal beauty of tradition. We wish upon them a fruitful and joy-filled marriage, one where sacrifice and support will see them through the dark times, and usher them into the light of promise.