Dhanya & Pradeep
April 9, 2021
• 0 Comment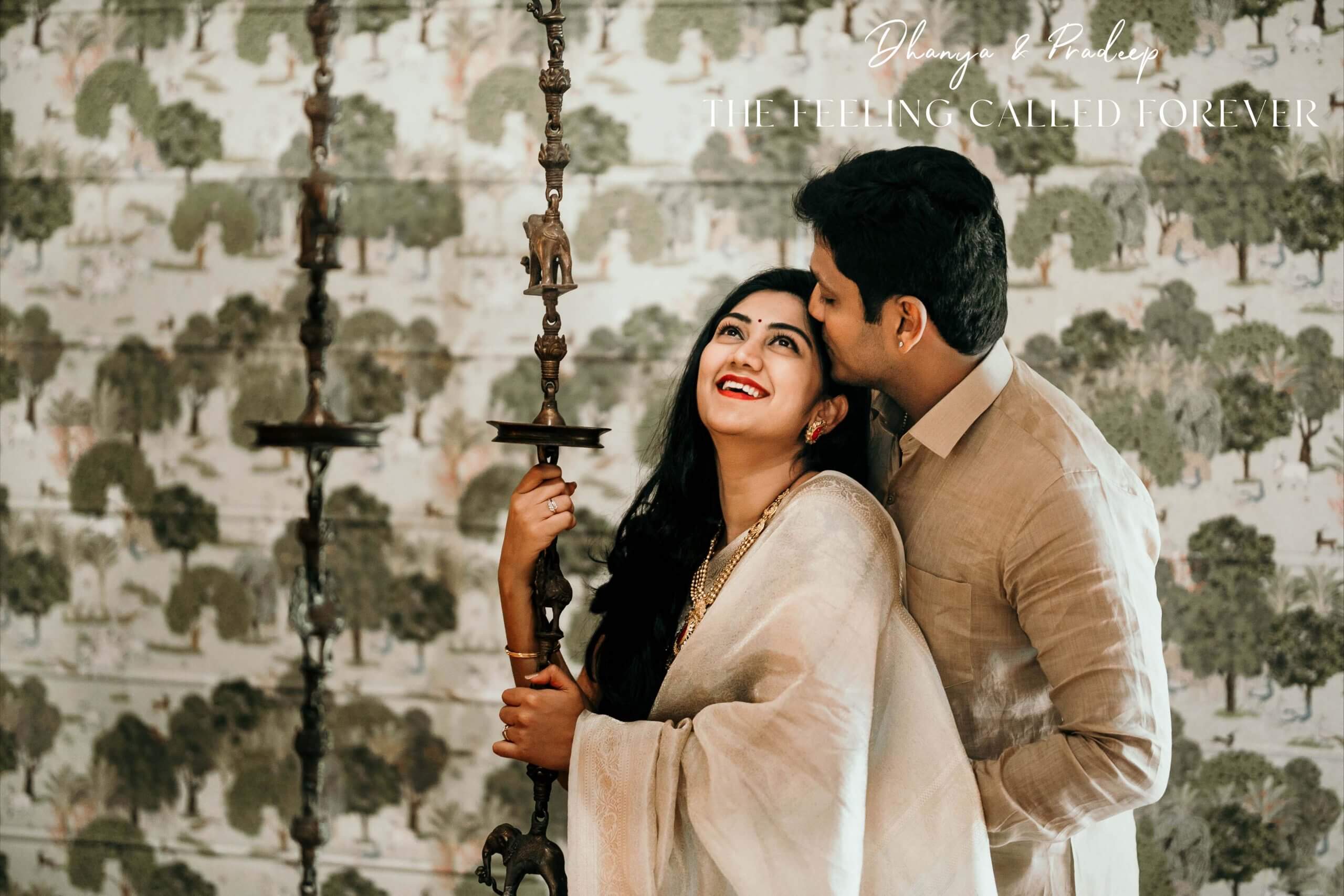 The Feeling Called Forever
Dhanya & Pradeep
It felt like just another ordinary evening at the Hyatt Regency (Chennai). Ordinary, until we stepped into the space allocated for the engagement ceremony between Dhanya and Pradeep. As first impressions go, we received a jolt of energy seeing the décor and open laughter from all those gathered to celebrate this momentous event.
In Chettinaad-style jewellery and wearing an outstanding saree from 'Tulsi Silks', Dhanya did not merely look her best she looked like royalty. Donning a long coat may seem too classic for some people, but Pradeep pulled off the look and gave 'class' a run for its money.
It was interesting to realize that of all the engagements we covered so far this wedding season, we found a chance to capture that elusive 'schedule list', namely the slip of paper on which the day's itinerary is written down and handed over to the poojaari (priest) for traditional reasons.
Speaking of tradition, the 'Seer' ceremony was quite captivating. While there are an assortment of sub-categories for that one tradition alone, at Dhanya and Pradeep's engagement we saw silver platters brought to the stage to commemorate their unique bond.
One look at the cake and anyone will tell you that a mouth-watering sensation wasn't far behind. Courtesy the 'Sugar Brush' franchise, we appreciate how much subtle detail went into this confectionery, from the brushed edible dye to the smooth ivory icing.
One of our finest most ethnic shots saw the couple in the lobby seated on a sofa with an antique wall rug behind them. Between the shot's sheer simplicity and 'old school' feel, we managed to capture our millennial couple in a genuinely interesting setting.
The Hyatt Regency also gave us the splendid ambience of a room filled with a ceiling of wooden hangings. Lit in a purple haze of dreamy twilight, we couldn't help but feel surprised at how amazing Dhanya and Pradeep looked no matter where we photographed them.
At the tail end of the ceremony, we were left wondering how wonderfully it all went. To wish upon the newly engaged couple a happy and fruitful future would be putting it mildly. We send positive vibes and strong hopes that this couple's togetherness will inspire fortitude, integrity, and elegance in anyone who sees them. May this unforgettable day be the first of many for you, Dhanya and Pradeep.